"Cosmic Nonsense" | A Group Exhibition
KM 28, Cairo-Alexandria Desert Road. Abu Rawash, Giza-Egypt.
Tuesday,22 October 2019 (7:00 PM) - Tuesday,12 November 2019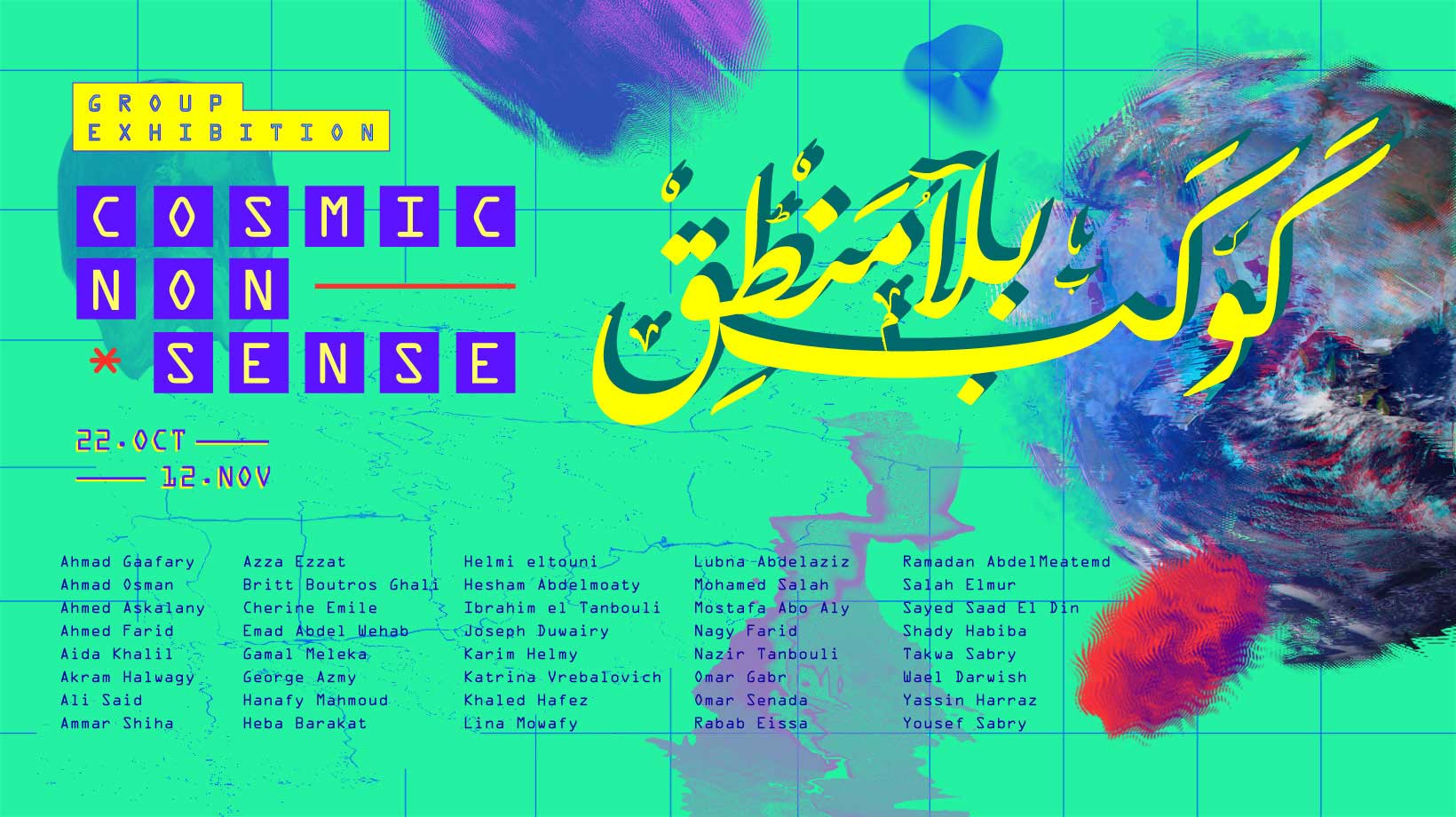 Cosmic Nonsense is a new exhibition hosted by TAM.Gallery (formerly known as The Arts-Mart Gallery), and opens on TUESDAY the 22nd of October 2019 at 7:00 pm.
This group exhibition celebrates the madness that surrounds us; an uninhibited adventure where our artists set out to discover the many faces of nonsense and explore the (often hilarious) survival tactics needed in today's world.
This show is a creative and immersive journey that takes us through a number of places, both physical and virtual. A new concept that attempts to explore the world from an impartial perspective of sanity and a therapeutic commentary on our city, homes, institutions, dreams, and questions the ways of life that may be devoid of logic.
How did one come to normalize so many illogical phenomena? We regularly hone our minds to adapt to a new kind of crazy. Unknowingly, we became "spect-actors" in this nonsensical contemporary life; be it in the world we live in, within our families, our workplaces or even as individuals within our very core.
Join us on Tuesday, 22nd of October, 2019 at 7:00 PM at TAM.Gallery (formerly The Arts-Mart Gallery) as we embrace all that nonsense within, take in the crazy around us and brace ourselves for the cosmic nonsense that is yet to come.
This Exhibition runs until the 12th of November.
Participating Artists:
Ahmed Gaafary
Ahmed Osman
Ahmed Askalany
Ahmed Farid
Aida Khalil
Akram Halwagy
Ali Said
Ammar Shiha
Azza Ezzat
Britt Boutros Ghali
Cherine Emile
Emad Abdel Wehab
Gamal Meleka
George Azmy
Hanafy Mahmoud
Heba Barakat
Helmi Eltouni
Hesham Abdelmoaty
Ibrahim El Tanbouli
Joseph El Duwairy
Karim Helmy
Katrina Vrebalovich
Khaled Hafez
Lina Mowafy
Lubna Abdel Aziz
Mohamed Salah
Mostafa Abo Aly
Nagy Farid
Nazir Tanbouli
Omar Gabr
Omar Senada
Rabab Eissa
Ramadan Abdel Metemed
Salah El Murr
Sayed Saad El Din
Shady Habiba
Takwa Sabry
Wael Darwish
Yassin Harraz
Youssef Sabry
كوكب بلا منطق | معرض جماعي
كوكب بلا منطق هو معرض جماعي يقيمه ويستضيفه تام جاليري (أرتس سمارت سابقاً) و الذي سيتم افتتاحه يوم الثلاثاء ٢٢ اكتوبر ٢٠١٩ في تمام الساعة٧:٠٠ مساءاً.
هذا المعرض الجماعي هو إحتفال بالجنون الذي يحيط بنا؛ مغامرة غير محسوبة انطلق فيها فنانونا لإكتشاف العديد من أشكال الجنون (المرح غالباً) وتجربة أنماط التكيف معها في عالمنا اليوم.
كوكب بلا منطق هو رحلة فنية تأخذنا لأماكن مادية محسوسة و إفتراضية. تصور جديد لإستكشاف العالم من منظور عقلاني محايد ونقد شخصي لمدننا و بيوتنا و مؤسساتنا و أحلامنا، و تساؤل حول التكيف مع عالم يخلو من المنطق أحيانًا.
كيف وصل بالإنسان الأمر إلى التكيف مع هذا العدد من الظواهر الغير منطقية؟ أصبحت عقولنا تحت ضغط مستمر للتكيف مع نوع جديد من الجنون على فترات أكثر و أكثر تقارباً، و بدون وعي، أصبحنا "مشاهد- متفاعل" في هذه الحياة المعاصرة اللا منطقية داخل شوارع المدينة أو داخل أسرنا أو في أماكن عملنا أو حتى كأفراد تصارع اللامنطقية داخل أنفسها.
شاركونا يوم الثلاثاء ٢٢ اكتوبر٢٠١٩ في تمام الساعة ٧:٠٠ في تام جاليري بينما نتقبل إنعدام المنطق بداخلنا و نتفاعل مع جنون العالم حولنا ونستعد للا منطقية الكونية التي لابد أن تأتي.
هذا المعرض ممتد حتى الثلاثاء ١٢ نوڤمبر
الفنانين المشاركين:
أحمد جعفري
أحمد عثمان
أحمد عسقلاني
أحمد فريد
أكرم حلوجي
ابراهيم الطنبولي
بريت بطرس غالي
تقوى صبري
جمال مليكة
جورج عزمي
جوزيف الدويري
حلمي التوني
حنفي محمود
خالد حافظ
رباب عيسى
رمضان عبد المعتمد
سيد سعد الدين
شادي حبيبة
شيرين ايميل
صلاح المر
عايدة خليل
عزة عزت
علي سعيد
عماد عبد الوهاب
عمار شيحة
عمر جبر
عمر سنادة
كاترينا فيربالوفيش
كريم حلمي
لبنى عبد العزيز
لينة موافي
محمد صلاح
مصطفى أبو علي
ناجي فريد
نزير طنبولي
هبة بركات
هشام عبد المعطي
وائل درويش
ياسين حراز
يوسف صبري