Mohamed Sabry Q&A Session
A quick Q&A sessionwith one of our previous "Artists of Tomorrow", Mohamed Sabry. His work is known for it's vibrant colors that are bound to grab anybody's attention. Read his interview to find out more about his work!
What influences you to paint what you paint?
My work is heavily inspired by pharaonic design in terms that my work doesn't show depth. I also use simple lines and structured features that are relevant to ancient Egyptian art.
Artists that have influenced my work include Hamed Nada and Abdel Hady El Gazar. But the biggest influence on my work is the countryside I grew up in. All the elements in my paintings are relevant to this environment.
My work also contains religious imagery inspired by my past experiences growing up.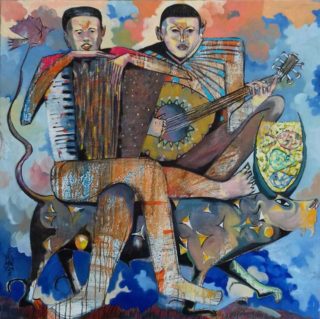 Do the animals you paint mean something specific to you?
The animals I paint can be thought of as mythological creatures, they may seem familiar but they are a combination of many animals meshed into one. I understand that they can be seen as unnerving, however I try my best to make them approachable to the viewer. Animals have always been a part of my life growing up, so I feel like I have a friendly relationship with them.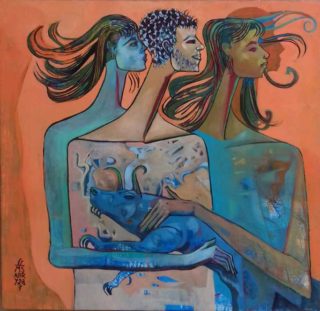 Is there a certain painting you favor more than others?
Yes, I have a special relationship with one of my paintings named "El Meelad" It was inspired by the time my son was born. It was really challenging times. It can be perceived as aggressive or violent, however I did it as a way to cope with these difficult times.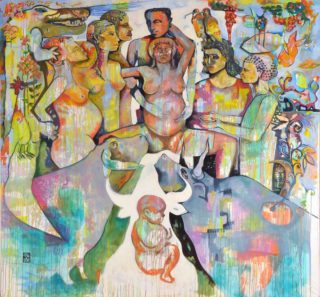 Do you have a certain process when you begin painting?
I work fast, I don't start with any sketches or layouts for my paintings. I either stain my canvas with several colors and try to make out any images or shapes I can relate to that can inspire a new painting. But sometimes I begin by sketching with charcoal. I work on several paintings at once.
Oil paint is my preferred medium because it gives me time to think about any changes I'd like to add to the painting.
Do you have a certain color palette you prefer working with? What influences your color palette?
I enjoy using bright colors and that are layered over and over again. My preferred colors are usually hues of green, blue and purple. My color palette is influences by several thing, one of them being my wife's colored photographs.
How do you pick the subjects you decide to paint?
The female subjects in my paintings are inspired by the women in my life, like my mother and my wife. Other than that, I'm usually inspired byEgyptian people's strong facial features.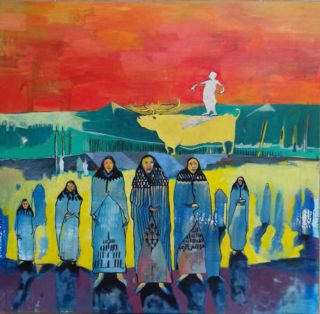 How has your work changed over time?
My old paintings were never this bright and vibrant, I actually depended solely on the use of black and white hues. However, when I started working with pottery, it inspired me to start using color in paintings. I try to make my current paintings less intense than the ones I used to paint.
Do you prefer sculpting over painting?
Not at all, I try my best to create a balance between my sculptures and paintings. They go hand in hand. If I can't produce paintings, I work on my sculpting and vice versa.
Any current projects you're working on?
I'm currently working on a bunch of portraits. My work is all based on trial and error and seeing what works best with me.
What are some challenges you face as an artist?
I face many challenges, but my main one is finding material that has good quality in this country. I am very persistent about using good quality paints because I want my paintings to last for a long time. Same goes for my sculptures, there aren't good quality tools for sculpting here, I have to depend on getting these things from abroad.
Mohamed Sabry's artwork can be seen at The Arts-Mart gallery or on www.arts-mart.com