Orchestra In Art-The Three Egyptian Tenors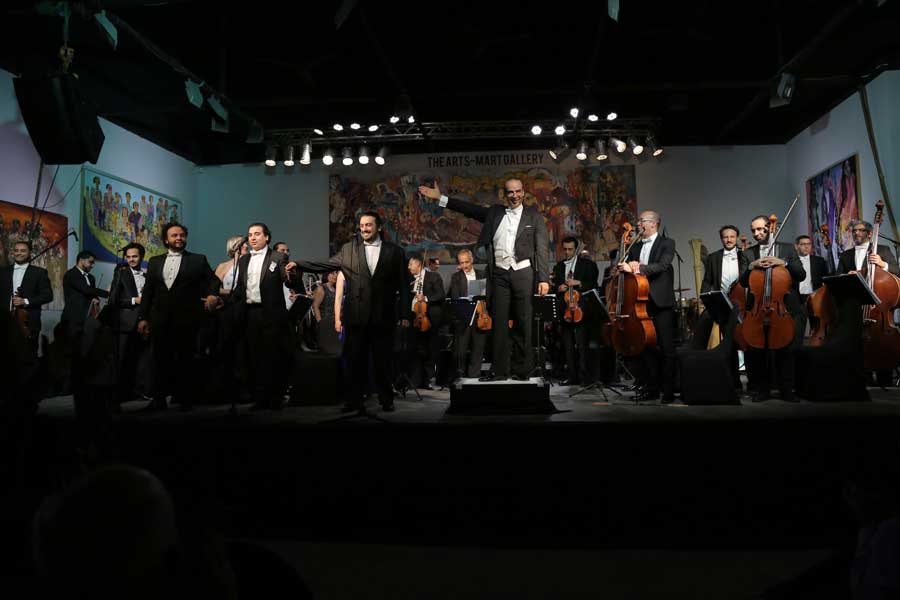 On March 23rd, The Arts-Mart Gallery proudly held its second Orchestra In Art event "The Three Egyptian Tenors". The event featured the United Philharmonic Orchestra performing amidst a specially curated art exhibition at the gallery. This performance was lead by world renowned maestro Nader Abbassi, and joined by three international award winning tenors; Hany Abdel-Zaher, Ragaa Eldin and Amr Medhat.
The tenors sang masterpieces of the Italian opera and Neapolitan songs, such as "O Sole Mio" and "Nessun Dorma" and many more. This event was meant to be an homage to the original Three Tenors; Luciano Pavarotti, Placido Domingo, and Jose Carreras. the one-night gala concert accompanied a specially curated exhibition by some of Egypt's most prolific artists:
Abdel Wahab Abdel Mohsen, Adham Badawy, Alaa Abul Hamd, Aya El Fallah, Ayyad El Nimer, Britt Boutros Ghali, Deena Fadel, Engie Ezeldin, Gamal Meleka, Ibrahim El Tanbouli, Klay Kassem, Lina Mowafy, Mahmoud El Dewehy, Mohamed Abla,Mohamed Abou Elwafa, Mohamed Banawy, Mohamed El Damarawy, Mohamed El Sharkawy, Mohamed Rabie, Mohamed Sabry, Mostafa Rahma, Omar Abdelzaher, Sayed Saad Eldin and many more.
This initiative was under the patronage of SODIC Art.
Check out some of the photos from this amazing night on our Facebook page!
See Photos!